We were thrilled to provide our Interior Design expertise for this beautiful bach in KeriKeri. Starting from bare bones through to (almost!) finished product, we are excited to share a few photos with you!
The brief for this holiday home in the far North of New Zealand was to achieve a relaxed 'Hamptons'-type vibe. The main inspiration for many of the finishes came from Huka Lodge in Taupo, which is a favourite place of our clients to stay.
The Devil's in the detail…
This warm, sunny home is filled to the brim with delicious design elements; stunning variations in wood panelling on every wall with layers of texture and a welcoming tonal colour palette throughout.
The overall colour scheme draws largely from its location; a serene private beach directly in front of the house, with native bush at the back. Layouts of the rooms were determined by how to best make the most of the stunning views from each window; making for lots of lovely breakout seating areas.
From exterior colours to the interior bespoke furnishings, cabinetry and finishes, we feel so privileged to have worked on all the finest details across every inch of this fabulous second home!
Kicking off with some 'Before's and concluding in some 'After's, we hope you enjoy this little photographic snippet with images by Hanson&Daughters.
BEFORE <<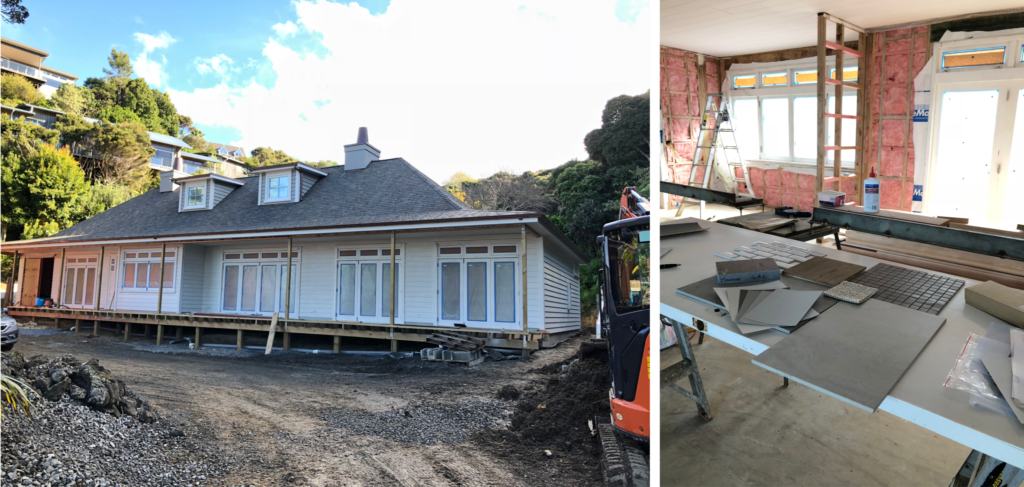 AFTER >>