Following on from coffee tables in our mini 'How To' series, today we bring you a little image inspiration for you on the blog with some tips and ideas on how to style a console.
For more ideas on the best items to use to style your console in an entrance, click here!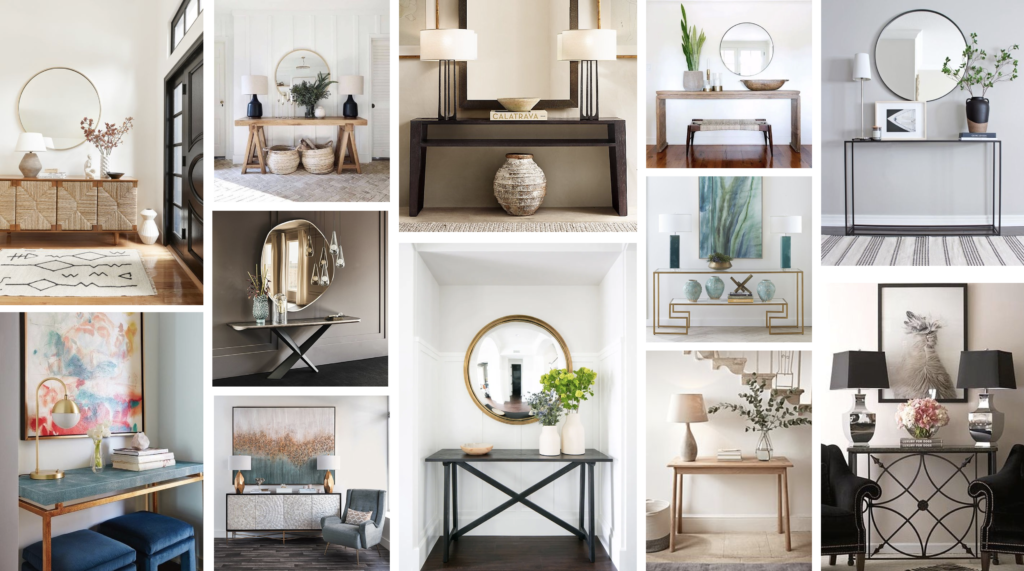 It's as easy as 1, 2, 3…
One:
Start by hanging a focal point object on the wall above- like a mirror or statement piece of art. This anchors the furniture to the wall and helps it to better fill the space. Without this, consoles in particular, with their light-frame form can look 'floaty' which in turn throws the wall off balance.
Mirrors are practical for last-minute make-up checks and help to bounce light around, while art injects often much-needed colour and personality!
Being more solid, buffets have less of an issue with looking 'empty', but being a low-lying piece of furniture, still require some assistance up top to keep the wall from looking bottom-heavy.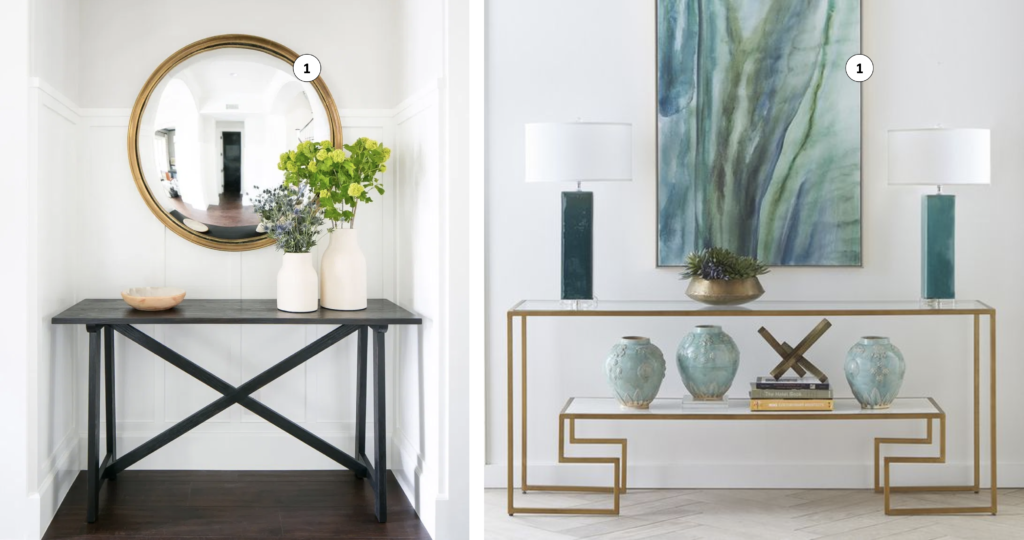 Two:
Accessorise! Style, style away… lamps, vessels, plants, books… all make great styling props for a console table. They are practical and inject personality!
Stick with the general rules around mixing up heights, colour and texture in order to keep everything balanced (See more on how to do this with our handy tips listed HERE!). If you're feeling particularly adventurous, hang your focal point art or mirror to one side and use that to balance the weight of your surface styling…
If you're going for a more formal look, symmetrical styling feels much more structured. Begin your styling with two tall lamps; one at either end, to add grandeur and frame your focal point.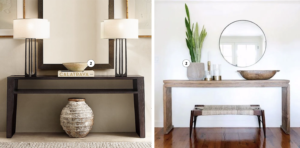 Three:
Ground the furniture. Consoles with an empty space underneath could use a little love to fill the gap. Just as a focal point mirror or statement art holds the piece to the wall, this helps to anchor your furniture to the floor.
Some consoles with a design-feature underneath (like shelves or decorative bracing) may not need anchoring with anything additional; just as a buffet cabinet is a solid piece that holds its own…. If your console does not feature decorative legs, then a bench or baskets can help to fill this space and provide the added bonus of style and functionality!
Alternatively, a rug in front can also help to add warmth and give the illusion of fullness by breaking up the open expanse of flooring below without adding clutter.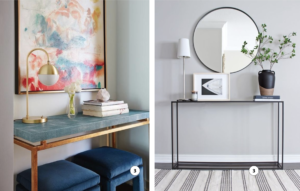 Images sourced from Pinterest