We were engaged to freshen up a newly-purchased two storey home in the bays that was in need of some love. At the heart of the home, the kitchen was a large project that took several months' focus to ensure we hit the brief.
The original space was already laid out brilliantly; a good size, with great flow for a busy, growing family. Running parallel to the large open dining area, the kitchen is perfect for entertaining guests or keeping an eye on the kids while they do their homework.

As our clients were happy to retain the original floorplan, our main job was to create a statement and bring new, exciting elements to the design. The end result would utilise the latest materials and finishes to ensure it stands the test of time, while still remaining both classic and functional.
With the floors stained a warm, rich colour at our suggestion, we set about putting together a concept for the kitchen with definition and strength to match. The entire scheme's direction really kicked off once we had sourced the perfect marble stone for the bench tops.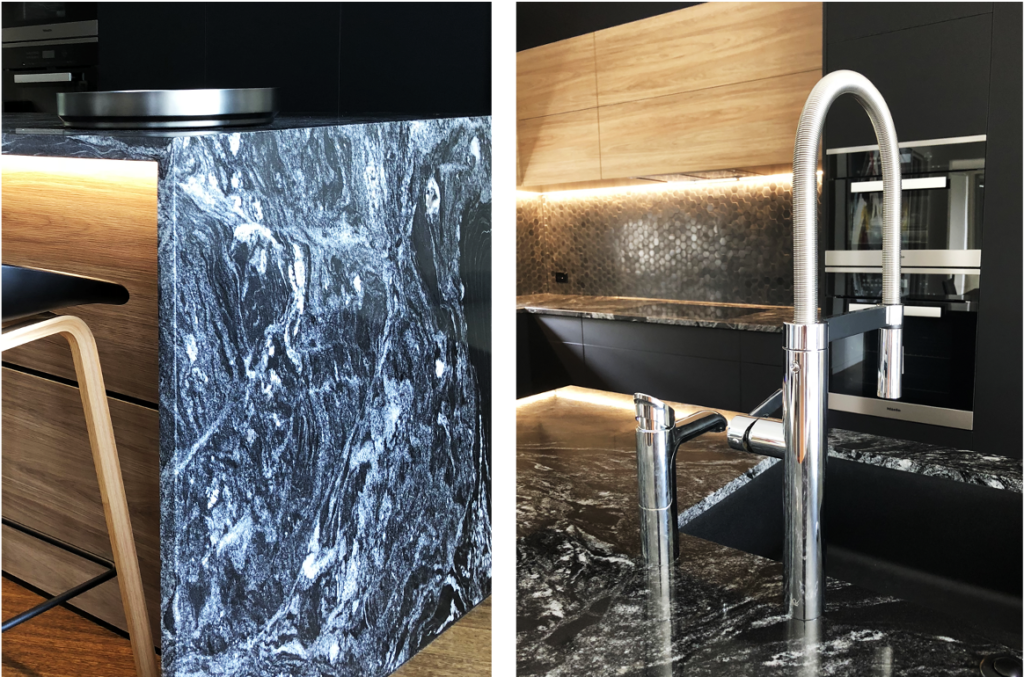 The design evolved to include the latest soft touch cabinetry so no handles were required; allowing a seamless look with clean, crisp lines throughout. Combined with the latest Blum componentry for all the drawers and cupboards, this kitchen is now at the forefront of luxury in ergonomic kitchen design.
We specified that all the cupboard internals were dark to provide a cohesive look, even when doors are open and we incorporated oak feature cabinetry to add warmth and interest. The kitchen splashback is finished with black marble mosaic tiles from Italy.
It was a huge pleasure to work with these most lovely, trusting clients on the design, procurement and management of this project and we love how it all came together!