BEFORE << | >> AFTER
Back in July we were lucky enough to have been engaged by a beautiful Kiwi couple currently based in Singapore, to assist with the entire interior fit-out of their recent home purchase; a sprawling family home on the wonderful Waiheke Island.
We were discovered after a search for Interior Designers in Auckland led them to our Instagram feed (Check it out >>HERE<< if you haven't already!) where we post design inspiration and snippets of past projects; both Home Staging and Interior-Design-led.
Due to Covid19, our couples' move back to New Zealand has been put on hold for now, however, determined to make the best of a bad situation, the purchase was completed and a brief was fired through to the Sojo Design team.
Until they can make it back to New Zealand restriction-free, the house will enter the market as a luxury holiday rental. Once life is back to 'normal' they plan to return and make it their family home. This gave us some key pointers to work with, when formalising the brief which can be found at the end of this post!
The house would be empty. The canvas was blank. It was the perfect designers playground!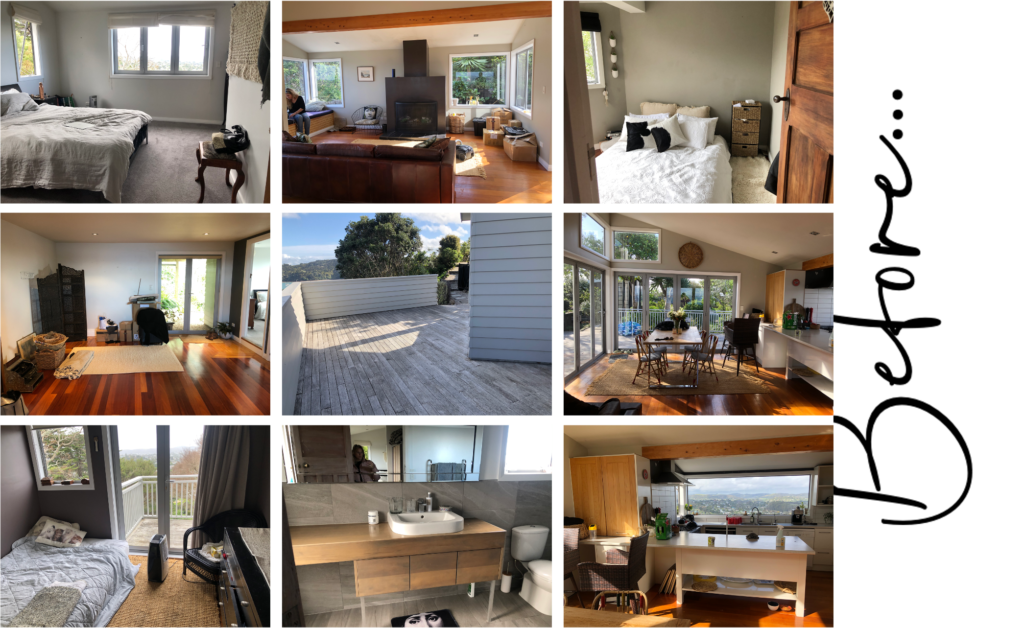 The End Product:
We are proud to say that the 'King of Burrell' is now live and available for holiday hire on Be My Guest | Waiheke.
"The perfect holiday home on top of the hill with stunning vistas and generous indoor & outdoor entertaining & dining areas, furnished & presented to the highest standard in a modern coastal style."
Check out the incredible listing photos and an awesome Sojo special 'Before and After' video below!
THE NITTY GRITTY
Background & Process:
After visiting the property for a measure up, the design process commenced. Bringing together the vision on paper was an easy win, however between lockdowns and a few logistical speedbumps (some that come hand-in-hand as standard with the design and install of a property located on an island different to your own!) this proved to be a little more of a challenge than initially anticipated… Luckily, we LOVE a challenge.
Covid meant that product stock levels NZ-wide were tight and many overseas shipments were on hold. With a fixed deadline of end-of-September, this meant that we were presented with the unique scenario of being limited to only what we could find in New Zealand, in the here and now…
Hiring a storage unit to contain our purchases until we were ready to move in one go, we gathered locally-made custom furniture, stockpiled batches of linen for the bedrooms & living areas, and squirrelled away styling accessories, ready for the big move.
On the day of the install it was all hands on deck! Taking an early ferry crossing, with a full team of heavy-lifters and stylists on board, we had just 4 hours with our movers to get everything in-situ and unpacked before they needed to head back to the mainland.
Luckily, the weather was fine and our checklists upon checklists worked a treat! Being experienced in one-day home installations through Home Staging and past experience with full-house makeovers (Check out this Mission Bay masterpiece!), moving everything in went smoothly with the home coming together beautifully for a 7pm finish (and a Cable Bay winery reward!).
The Checklist:
The house must be able to house lots of guests! Queen beds to suit couples in the master and double bedrooms. King singles and trundler beds in the smaller rooms and sleep-out. A queen sofa bed in the TV room.
As the home will be used for lots of guests coming and going, the interior materials must be durable and able to withstand constant use and abuse. This meant hardwearing fabrics in easy-care colours, outdoor furniture to withstand the elements, and nothing too delicate or precious for styling.
With the home long-term to be used by the family, it had to hold visual appeal for a wider audience, but also fit with their own personal taste. The design brief (perfectly befitting of a Waiheke bach!) was for a relaxed, coastal vibe. Blues, greens, linens and jutes… texture, texture, texture. LOVE!