I love rugs. They have so many different uses when it comes to styling your home and add texture and cosiness underfoot for winter, so now is a good time to go shopping for one!
Below I share some trending ideas for how to style rugs in your home.
Cow hides

These work in so many places. Even awkward spaces that have loads of angles. For example, layer it under your coffee or dining table where space maybe tight, or use one to offset sofas that are at right angles.
They also look great in an entrance or foyer with no furniture on top of them. They are best to not be positioned on carpet because they move and lift too much. They are a classic staple right now for a contemporary modern look on concrete or hardwood floors.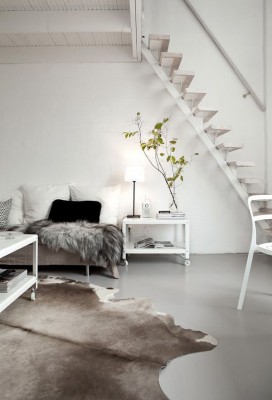 Jute rugs
Jute is natural plant-based fibre; are soft underfoot and extremely durable and robust. They are handcrafted by skilled artisans, often with unique textures and designs incorporated to show quality.
Popular now and loved by everyone, they look amazing on concrete and wooden floors as well as on tile. Jute rugs can be used in any room in the house including entrance ways, living & dining rooms; under your furniture to define the space, in bedrooms at the end of the bed and also as hallway runners to cosy this space up for winter.
They tend to be of plain colour however add loads of texture. ​Our favourite suppliers stand by their product in that the materials are grown sustainably, they ensure no child labour is involved and they are made in a factory where the weavers are 100% looked after.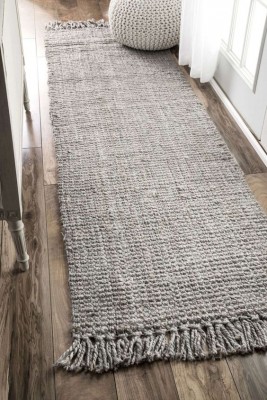 Patterned Rugs
These rugs are engaging and draw the eye down to them. Neutral patterned rugs help define the space and add warmth underfoot whilst maintaining simplicity. On the other hand, you can really pack a punch and go for bold, vibrant colours and pattern to emphasise the floor and tie a room together.
If you decide to go bold, the colour you choose will drive the palette for the rest of the space, so always ensure you LOVE what you buy. Composition is most often man-made fibre; sometimes wool, sometimes silk, so always be aware you position these rugs out of direct sunlight if natural fibres, as darker colours will fade.
If you ever buy a rug too small it will make your space feel closed-in, so always go slightly bigger and if need be place the front legs of your sofas on the rug to make the space feel larger.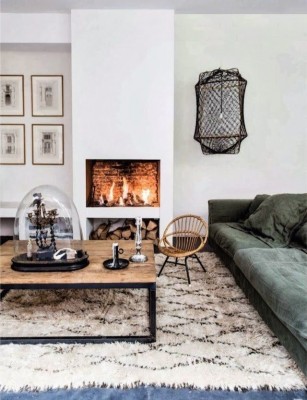 Never underestimate the importance of purchasing the correct rug for your space, it can make it or break it.