When is a cookie-cutter new-build apartment not a cookie-cutter new-build apartment?
…When it's had the Sojo makeover treatment.
Brand new blank walls were for once a blessing in this high-end apartment in the state-of-the-art Pacifica building on Commerce Street, Auckland CBD, as it provided the most wonderful empty canvas for us to sink our teeth into!
With luxury amenities such as 24 hour valet parking, a world-class pool & gym complex, cinema and library, The Pacifica sets the bar for inner-city living- it's reputation alone providing solid foundations for our design brief.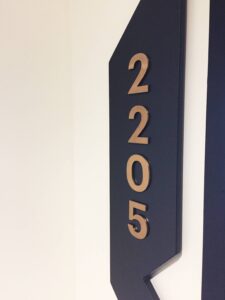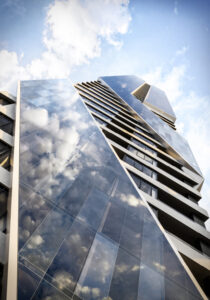 Invested in by an overseas vendor with roots in NZ, the apartment was purchased with a view to it entering the rental market. It's intended tenants; working professionals with an appreciation for the finer things; we were invited to design and fully kit-out the twenty-second floor apartment.
Our design had to speak to a more discerning level of clientele, have a modern classic feel befitting of the building and also be robust enough to withstand high frequency use in tenancy; all-the-while by utilising just what we could design and source within New Zealand, due to low stock and import delays as a result of the global pandemic.

Over the course of two months, we worked to transform all the spaces from a series of plain white boxes to a characterful boutique home. Feature walls were introduced in high-impact areas, couches, drapes and headboards were custom-made, feature art and styling carefully curated.
Perhaps most importantly, the somewhat 'awkward' long, narrow living space was marked out with precision. With entire walls made of windows and lots of unusual angles to contend with, it could have been difficult for the new resident to imagine how to lay this space out effectively!

BEFORE >> AFTER
Imagining how the space would likely be lived in, we created the best possible layout that utilised every nook and cranny, adding additional surfaces & storage where we could at the owners request, while still allowing plenty of room for flexible living using diverse seating options that could be easily moved around to accommodate visiting guests.






BEFORE >> AFTER
Separating the main living area from the dedicated study space, we chose to wrap a feature wallpaper round the large dividing walls to add a focal point from all angles and bring some depth to the space. Being directly opposite the entrance, the wraparound design paired with large hallway art and a gold-topped console that leads your eye down the passageway, the winning combination makes a major 'wow' statement when you first step through the door!



BEFORE >> AFTER
In the bedrooms we wanted to really up the ante with a premium hotel vibe. Inviting, cosy spaces that scream relaxation and luxury- an escape from the bustling city below. Each room takes on an individual colour palette, with layer-upon-layer of texture across the linen, art and wall finishes.
…Which room would you take?